VIEW TECHNICAL
SPECIFICATIONS
The Inverso by Saratoga Technologies, LLC is your all-in-one laser that combines both Q-Switched and Long Pulsed Nd:YAG, making it one of the most versatile systems in the world. 
Four Q-Switched Wavelengths integrated are: 1064nm, 532nm, 585nm, & 650nm along with Nd:YAG Long Pulsed 1064nm. 
Applications: Q-Switched Nd:YAG
• Tattoo Removal, all colors with our multiple wavelengths
• Melasma
• Pigmented Lesions
• Carbon Peel
• Lentigines
• Seborrheic Keratoses
• Cellulite
Applications: Long Pulsed 1064nm Nd:YAG
• Hair Removal
• Vascular Lesions: Leg Veins & Facial Telangetasias
• Nail Fungus: Onychomycosis
• Acne
•Skin Rejuvenation
• Folliculitis

Carbon Wave is a laser accessory, a hydrogel patch used to convert laser energy and create new treatment opportunities.
What is the Technology Behind Carbon Wave?
The Carbon Wave hydrogel patches highly are reactive to Q-Switched laser energy. When a laser is pulsed onto the Carbon Wave, an incredibly strong acoustic wave of energy is created.
What Can Carbon Wave be Combined with?
The Carbon Wave Patch can be combined with Q-Switched Nd:YAG lasers to create this new treatment.
What is the Treatment Experience?
A typical treatment will take approximately ten minutes. The patient will experience a mild sensation. The treatment is entirely non-invasive with no downtime.
Applications: COLD AIR COOLER
• Designed for superficial laser skin procedures
• Protects the tissue from thermal damage and allows higher fluences
• Unlike other cooling systems, Air cooling can cool before, during and after laser energy is applied
• Hands-free operation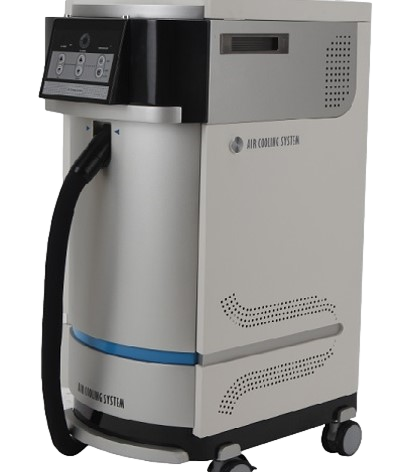 Featuring the Carbon Peel using the
Q-Switched Nd:YAG
Invest in this life-changing technology for your
practice and your patients will invest in you.