What is the Bella Donna CO2 Fractional Laser? It's an innovative automatic laser with true versatility in the world of aesthetic medicine.  The core of the CO2 Fractional Laser aims to rejuvenate and improve the overall texture of patients' skin.  The delivery of the CO2 Fractional Laser ensures minimal downtime for the patient, and more importantly little discomfort while precise and controlled microbeams on the vaginal lining. Collagen production will be triggered as new tissue growth occurs.
Many middle-aged women face vaginal issues brought on by a myriad of items. Whether recovering from cancer (breast) and battling its unfortunate side effects or simply a matter of growing older, the addition of the Bella Donna ALVR (Automatic Laser Vaginal Restoration) handpiece enables physicians and practices to offer key feminine health treatments, such as vaginal tightening and restoration.
Saratoga Technologies is proud to offer this skin and life-changing technology to your practice for your patients. Ranging from acne scar reduction to mole removal and skin resurfacing. The CO2 Fractional Laser technology delivers unmatched efficacy, at a price that makes it easy to add to your practice.
• Wrinkles
• Skin Resurfacing
• Acne Scarring
• Sun Damage
• Vaginal Atrophy
• Benign Lesions (Elevated & Flat)
• Ablative Vaginal Restoration
• Dyspareunia
• Incontinence
• No downtime
• Minimal (if any) discomfort due to the automatic rotation
• Immediate and lasting results (series of treatments is minimized)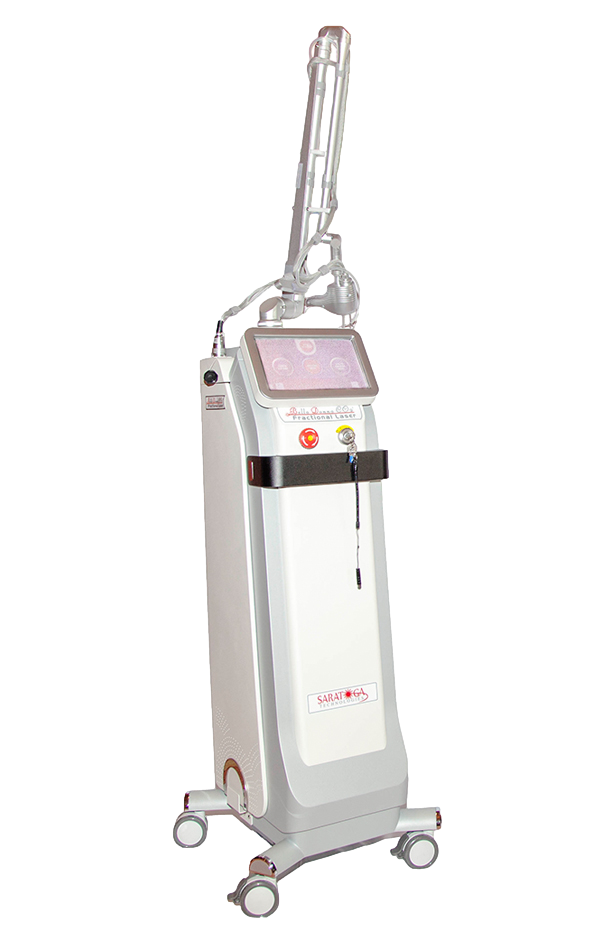 The Bella Donna Fractional Laser Technology has been thoroughly tested by experienced and reputable physicians, ensuring the overall efficacy and safety of the CO2 technology.  The innovative and patented surgery and fractional modes utilize various beam patterns for superior results and ultra pulse beam technology ensuring minimal thermal damage and/or side effects.
BELLA DONNA CO2 FRACTIONAL LASER
Invest in this life-changing technology for your
practice and your patients will invest in you.